Do you agree that construction could be easier?
We are sure of it. That's why 20 years ago, as Pro4all, we took on a big challenge: digitising construction. Because we saw that – despite good intentions – (expensive) mistakes were being made and thus unnecessary material was being wasted. With our software, we help the construction industry to cooperate better, build ever more sustainably and perhaps even solve the housing shortage.

Quite a challenge, so we could really use your help.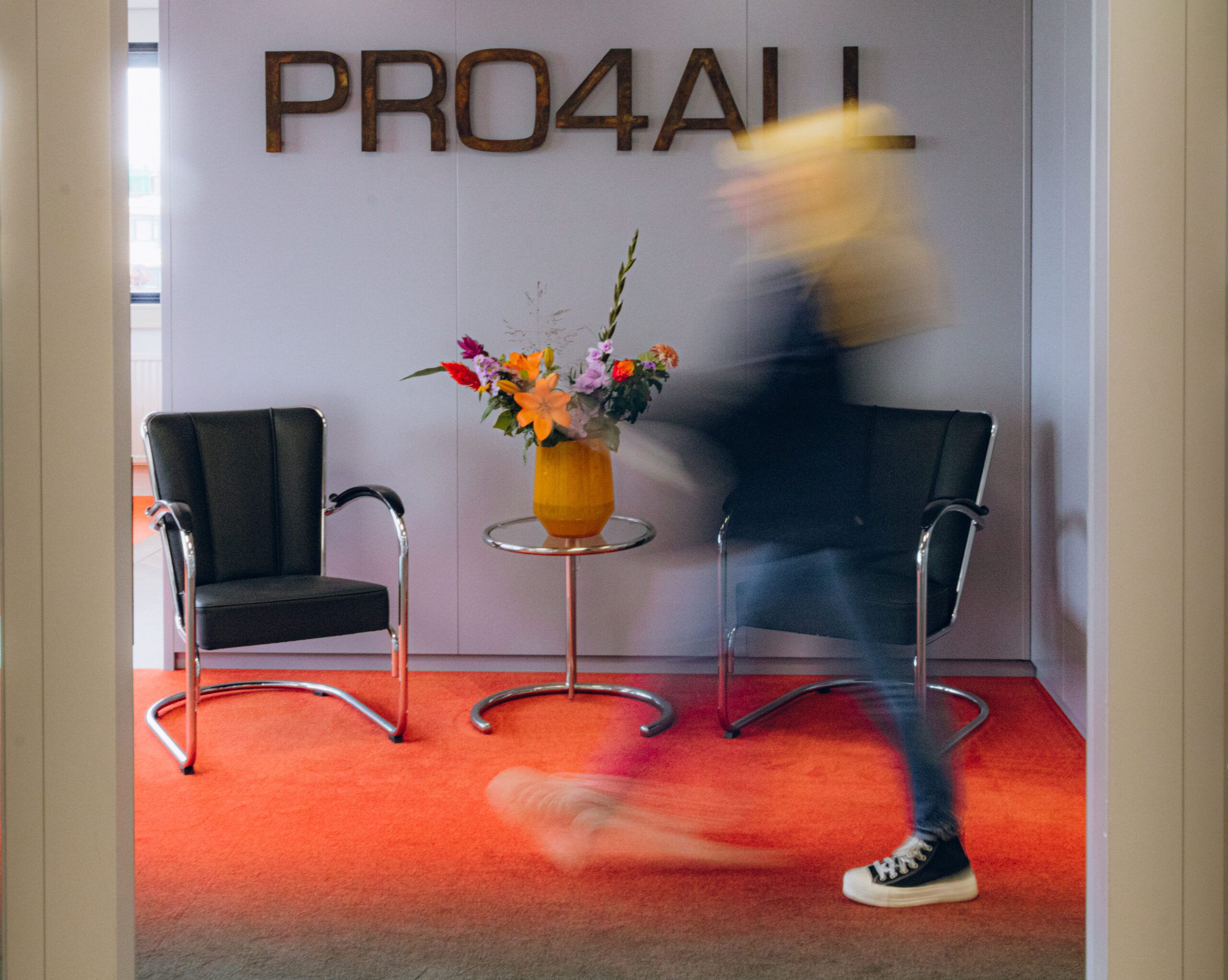 We are a big club of
passionate nerds.
We are not just another software company. We are a big club of passionate nerds. True tech-lovers, with years of knowledge and experience. We believe that digitalisation is the key to our customers' success, and we are happy to contribute to that.
We move the (conservative) construction industry, with a clear vision. After all, we believe that building is still too difficult and there is a lot to be gained here. By collaborating digitally, you prevent mistakes, improve communication, save costs and work more efficiently. A win-win for all parties within the construction process. In short: our solutions make construction easier.
In recent years, we have already contributed with our tools to the refurbishment of rooms at The Student Hotel, the construction of Coolblue's distribution centres and several construction projects within Schiphol Airport, among others.
---
---
Work. Together.
Thát is at the heart of Pro4all. And working together. On the digital future of construction, smart technological solutions and data-driven innovations. We do so with one aim: to make construction easier.
---
Don't take our word for it…
Take it from our colleagues, though:
"You are taken seriously here."
Everyone has responsibility and is given room to express their opinions. You get the chance to shape your own place in the organisation and are given all the support and space you need. This allows you to work optimally on your own development.
Chris – Senior Developer
---
"You get a lot of freedom and responsibility from day 1. "
This ensures that you are constantly challenged. You will also be surrounded by passionate sociable colleagues where we work together as a team to create a great product for our customers.
Christa – UX Designer
"Each day brings different challenges."
It is a dynamic company, always evolving and the sky's the limit. Of course, the fun and enthusiastic colleagues also contribute to my job satisfaction.
Merel – Customer Success
---
"There is a relaxed but professional atmosphere. "
A culture of tackling and solving, rather than finger-pointing. There is also a lot of room for new initiatives. I really like that. The company also pays remarkable attention to the well-being of its employees and organises many social outings. Really a warm bath to come into!
Jan Willem – Web Developer
A glimpse behind
the scenes.
Office impressions
(Pssst, scroll to the right!)
Weekly team meetings in the auditorium
Also useful for watching football matches together 😉 
Fanatical ping-pong rallies
We can hardly imagine… Not that into table tennis, though? Then you can also work or hold meetings here just fine. 
All the space to work out great ideas
Our brainstorm room offers a lot of square metres to fill with good ideas. In fact, all the walls in this room together form one big whiteboard.
Unwind during a yoga class
During working hours. Clear your head, grab a hot shower and you are ready to go again!
Rather engage in power training? 
You can too. All classes are taught by our regular trainer Ruud. 
Serious consultations with colleagues
There is also work to be done, every now and then. The nice meeting rooms offer plenty of space to isolate yourself for a while or, on the contrary, collaborate with colleagues.
This is what you
can expect from us
Construction boring? Not with us. Working at Pro4all means working in an environment that never stands still, where no two days are the same and where you are constantly challenged to think and act differently. Are you full of creative ideas? Great! Then you are exactly who we are looking for. We have confidence in ourselves and each other. We work well on our own, but even better together. Without our people, we are nowhere, so we make sure you can put all your time and energy into being the best in your field.
---
What's in it for you?
Our benefits.
A great job!
A job at a super-fast-growing SaaS scale-up.
50/50 work from home
From home, or from the office. And we help you furnish your home office, so that you can work comfortably there too! 
Career opportunities
Growth and development is hugely important at Pro4all. As our people grow, so do we. We always look at what suits you, where you want to go and what the possibilities are. 
The financial picture
We offer you a good salary and 8% holiday pay. You will also receive a travel and home office allowance.
Vacation!
We offer 24 days of annual leave. In addition, you can choose to buy up to 5 days extra.
Exercising during working hours
In the office, we have a gym, where yoga and sports classes are held every week during working hours. 
Fun!
We love conviviality, so we regularly organise get-togethers, outings and other fun activities. Feel free to ask one of our colleagues about the annual Christmas party. 
Accessibility
On the days you work at the office, it is nice that it is easy to reach. It is easy to drive to, both by car and train.
---
Do you want to make a difference?
Then come work at Pro4all, because working at Pro4all is not an obligation: it's a treat! We see job satisfaction as the most important pillar.
Convinced? Then take a look at our vacancies or send an open application. Who knows, you might soon be sitting down to coffee with Rosanne, from HR.
---
---
And maybe they'll become your new colleagues.